Yes this week has been hectic, and I stress the word week. It's only been a week! I feel like it's been two to three weeks! And I'm actually relieved since I've been teetering on the edge of just failing at my dieting. So I'm back on and tomorrow is going to be a whole new week.
I'm really into this I guess "Restart After A Break" because I didn't 100% quit. I'm revisiting Mr. Armstrong: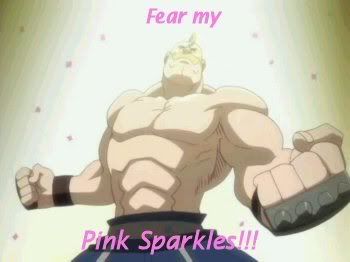 I love Armstrong!! He is totally my weight loss icon!! I love him so much!! And for those of you unfamiliar... it's from an anime called Fullmetal Alchemist. And it's awesome.... anyways.
In other news last night I was just getting to bed when from my right hip to my right ankle began to scream at me off and on. I called my mom since I couldn't go to her room since I could barely walk it hurt so much. She came in gave me some icey hot stuff and an ice pack for my knee. Oh and some advil. I pinched a nerve in my lower back. So yeah. That's what's been up!! ttyl
tootles!!